Spring Hurlbut
Shut Up
March 25 - April 24, 2010
Opening: Thursday, March 25, 6-8pm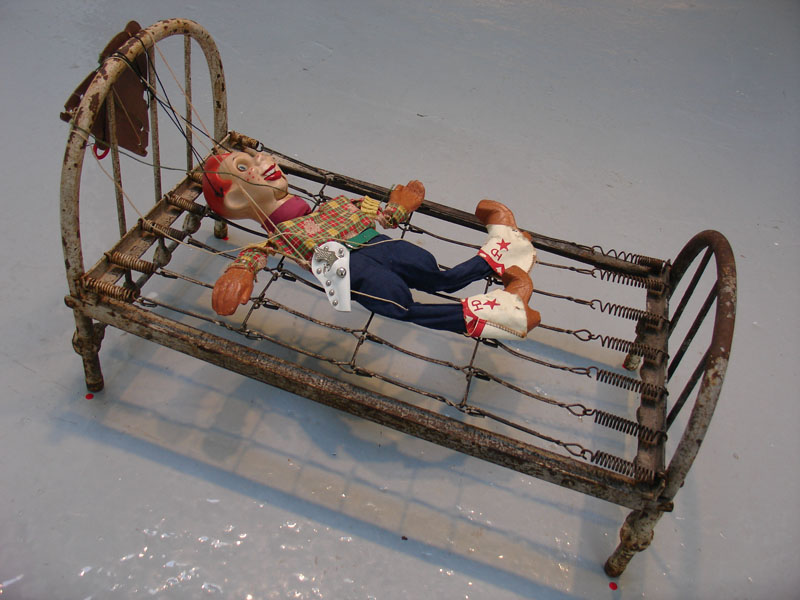 Georgia Scherman Projects is pleased to present Spring Hurlbut's Shut Up.
Shut Up features installations and photographs derived from modified vintage ventriloquist dummies intended for amateurs and children. The tension between the classic sidekick and its psychological foil takes centre stage in these charged works by Hurlbut.
The ventriloquist act is predicated on an essential trick; throwing the voice in order to animate an adult-child dummy. The act is sustained by a repartee in which the dummy responds with outlandish phrases, provocative or rude comments, and the handler chastising ~ a cycle of bad behaviour and reprimands. As the dummy is perceived as a child and cannot be held responsible for any transgressions, he is deemed innocent and is forgiven.
Dizzy, the feature installation, is comprised of nine identical, amateur, vintage dummies, modified by Hurlbut and consecutively mounted on the wall. Each of the nine heads are positioned at a different angle, ultimately recording a full, 360° rotation while the bodies remain in the same fixed frontal pose. Their mouths are positioned shut.
In a second three-dimensional work, Mouthy, a single amateur, vintage dummy stands mounted on the wall. This time, the mouth is open and the phrase "don't put words in my mouth," hand sewn onto a ribbon, spills out.
In two photographic installations based on Dizzy, a dummy is featured in a series of nine photographs. Each image documents one stage of the sequence of a complete 360° rotation of the head. The first installation, Automatonophobia, depictsa close-up photo documentation of the face and neck of a singular dummy. Ta-dah!, the second series, presents a series of smaller full body portraits.
As with Dizzy, the dummies enact a human impossibility since we ourselves cannot rotate our heads completely. The dummies have been manipulated to both imitate and surpass our physical limitations. And their mouths are positioned closed: these boy-men have been rendered mute.
Yet another installation is comprised of two objects, a vintage Howdy Doody doll and an antique skeletal doll's bed frame. Broken addresses pathos and brings to mind ideas of birth, exhaustion, infirmity and death. Howdy the marionette is held down by his own devices and can only become active while being manipulated. Pathetically lonesome with his wild, dilated eyes and his mouth agape, he shouts out in silence. Confined, infirm and broken, Howdy is helpless.
Spring Hurlbut's Shut Up plays to the absurd and emits a potent whiff of parody.
Born in Toronto in 1952, Spring Hurlbut studied at the Ontario College of Art (now the Ontario College of Art and Design), Toronto and at the Nova Scotia College of Art and Design, Halifax. Since her installation, A Wall on Location, at P.S.1., Long Island City, New York in 1981, Hurlbut has exhibited nationally and internationally and her work has been met with wide critical acclaim. Venues include: The Power Plant, Toronto, Canada; Royal Ontario Museum, Toronto, Canada; Musée des beaux-arts de Montréal, Montréal, Canada; Contemporary Art Gallery, Vancouver, Canada; Manchester Museum, Manchester, UK; Wurttembergischer Kunstverein, Stuttgart, Germany; The Institute of Contemporary Art/Boston, Boston, USA; Creative Time Inc./The Municipal Art Society, New York, USA.
Spring Hurlbut's work is represented in public collections across Canada such as Musée d'art contemporain de Montréal, Montréal and the Art Gallery of Ontario, Toronto. Most recently, Hurlbut's video work Airborne, 2008 was acquired by the National Gallery of Canada, Ottawa. In June, her work will be shown at the Fondation Pierre Berger/Yves Saint Laurent in Paris as part of an exhibition curated by Alain Tapie.
Spring Hurlbut currently lives and works in Toronto and is represented by Georgia Scherman Projects.